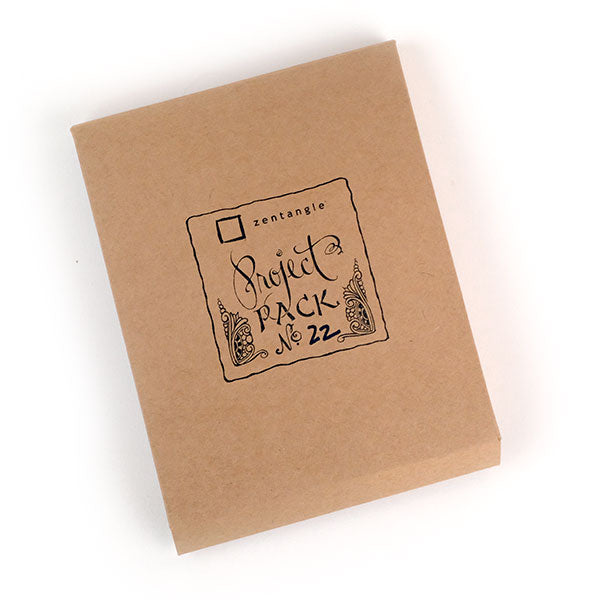 Zentangle Project Pack No. 22 - 12 Days of Zentangle 2023
Zentangle
B-ZT-PRPK-22
40352636010576
Bijou has had a very busy year here at Zentangle. Let's just say his creative juices were flowing and he was ready to share some of his ideas for Zentangle products and content. He was very eager to contribute to our product development team and his persistence was hard to ignore, so we decided to give a couple of his ideas a try.
One idea we loved, and we thought it would be the perfect theme for Zentangle Project Pack No. 22 and our 2023 Twelve Days of Zentangle. We will deliver twelve consecutive days of tangling tutorials, curated materials, and festive content all around the same theme.
As so many of you tangle enthusiasts know ... The Zentangle Method is an easy-to-learn, relaxing, and fun way to create beautiful images by drawing structured patterns that we call tangles. You create tangles with combinations of dots, lines, simple curves, S-curves, and orbs. There are a few tangles in the history of the Zentangle Method that are known more and used more often and manipulated more than others. Their forms are basic, resilient, familiar and they have the potential to be so much more in so many ways.

This project pack will take a deep dive into one tangle and all that it stands for. As usual, we are taking a very creative outside the box approach to this fun theme. And as usual, we don't like to disclose too much before the videos are released. We can say that Project Pack No. 22 will take a deep dive into one of our most classic tangles. It takes a close look at some inspired strings and potential mosaics, and maybe ... just maybe has a new surface to be explored. Bijou's idea of course! 
Videos for Zentangle Project Pack No. 22 - 12 Days of Zentangle 2023 will be released via our website and newsletter beginning December 1, 2023.


Introduction