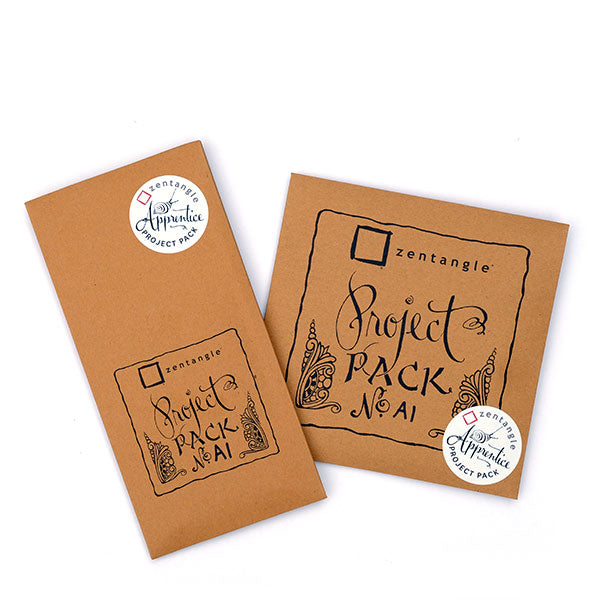 Apprentice Project Pack No. A1
Zentangle
B-ZT-PRPK-A1
33062688751696
Zentangle Apprentice™ brings the Zentangle method and experience to our youngest generation.
Children as young as four across the globe are creating amazing pieces of art using the Zentangle Method. What is fascinating about Zentangle is that it stretches across cultures, religions, media and ages without having to alter the content of the method. The Zentangle method itself changes very little whether artists are children or adults. However, we thought that it would be fun to create some lessons and materials that would cater to and be more suitable for the children out there that are eager to create with the Zentangle Method.
This year, in the United States, as well as many other countries worldwide, people are spending more time at home. Many schools are closed, and children are learning remotely. Zentangle wanted to respond by creating content designed especially for children and families to learn and practice the Zentangle Method at home.
We are excited to introduce our first Zentangle Apprentice Project Pack. Zentangle Project Packs are a curated collection of supplies that pair up with a series of video tutorials, all on the same theme. This Project Pack is designed especially for children and the young at heart. These videos will start with the basics of the Zentangle Method and therefore are quite suitable for beginners. The lessons will evolve to explore many tangling techniques and materials. Students will learn about the history and philosophy behind the method. These lessons are fun and light and take each artist though the process of creating art one stroke at a time.

Lessons are recommended for individuals, classrooms, multigenerational groups, clubs and more. The initial release of these videos will be slightly different than other Zentangle Project Packs. Videos will become available one at a time via our newsletter on Tuesdays and Thursdays for four consecutive weeks beginning on January 19, 2021 (this schedule is subject to change). Once a video is released it will live on YouTube and can be viewed at any time and as many times as you like. All Project Pack videos are free and available to all on the Zentangle, Inc. YouTube channel.