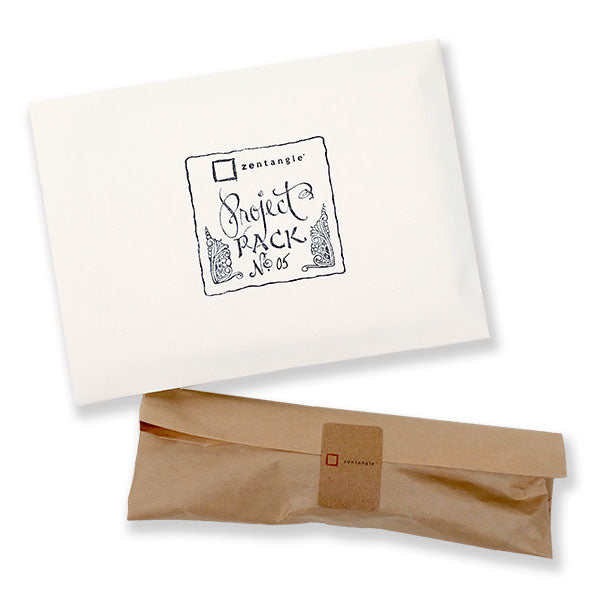 Zentangle Project Pack No. 05 - Zentangle Cartouche
Zentangle
B-ZT-PRPK-05
21706865115216
When designing this Project Pack, we found our inspiration in paying homage to the art of making adorned displays for personal photos, letters, memorabilia and ephemera. In our hunt to find a word to describe these beautiful tangled frames and borders to hold our most precious things Maria discovered the word Cartouche.
 
Today, we bring back this lovely word to describe our approach to using the Zentangle Method to create ornate frames and borders.
 
This Project Pack has all the supplies you will need to follow along with us as you adorn your most post precious keepsakes. Excludes scissors.
 
Together, we will explore fun, and "outside-the-box" ideas on how to mount and "frame" your treasures using Zentangle inspired techniques. Multiple video tutorials will guide you through the use of the Project Pack contents. Each video will demonstrate a different way to create illuminations and borders. . . and perhaps a dingbatz or two. 
 
We will take simple tangles and use them in unexpected ways. We will work with different ways to mount photos and objects. Then we will play with auras, tangle enhancers, and creative shading techniques to bring special focus to some of your most meaningful possessions
 
After you order your project pack, you will need to find some of these cherished items. Old photos, or, better yet, a photo where part of it can be cut out or trimmed away.  Perhaps a baby spoon, or maybe an old gold brooch that is fantastic, but you would never wear. You might even gather an object like coin or a fortune cookie fortune.
 NOTE: The scissors we used in this project pack were discontinued by the manufacturer. Please use whatever you have available.